"This post contains affiliate links, and I will be compensated if you make a purchase after clicking on my links."
From sleek, modern designs to more elegant classic options, there are a great array of different bathroom vanities on the market, and something to suit all kinds of bathrooms.
However, with so many choices, it can sometimes prove difficult to identify the perfect unit to match up with your décor and enhance both the look and functionality of your space.
So how do you decide which bathroom vanity is right for you? The unique advantages provided by several different types of vanities are weighed up here.

Different types of Bathroom Vanities to enhance your home
Whether you're looking to achieve a flashy, standout appearance or a more understated look, you can source a bathroom vanity that is well suited to your surroundings and sure to improve the area, and potentially maximize the space within it too.
A corner bathroom vanity is probably the best choice if you are looking to open up the room, with its design and positioning ensuring that space is freed up elsewhere in the bathroom.
For example, if you are looking to make a freestanding bathtub the focal point of a large room, a corner or wall mounted vanity is ideal – similarly so in a compact bathroom, where available space may dictate that these vanities are the only type that will fit.
The incorporation of a single or double sink is a huge bonus, and corner units are available in an impressive variety of styles to suit any need.
There are bathroom corner cabinets, corner makeup vanities and mirrored corner vanities to choose from, each available in a range of impressive, eye-catching finishes that will improve the look of any room.
Your existing bathroom décor will strongly influence your vanity decision, unless you're planning to overhaul the entire look of the space.
For traditional bathrooms, an antique makeup vanity is worth considering, and could be teamed with a rustic bathroom mirror for a look of ultimate authenticity.
An oak finish will often complete the look of a vintage vanity set, but unfinished bathroom cabinets or vanities can also deliver a fanciful aura to a traditional style bathroom, and are a unique alternative sure to catch the eye.
There are plenty of vanity options for bathrooms looking to add a more contemporary flavor as well, with striking whites, grays and blacks popular finish choices.
Sleek design lines account for the makeup of most modern vanities, which will also tend to feature in-built vessel sinks moulded into the shape of the unit.
Freestanding vanities will perhaps be favored in larger bathrooms, with wall-mounted units preferred in compact spaces.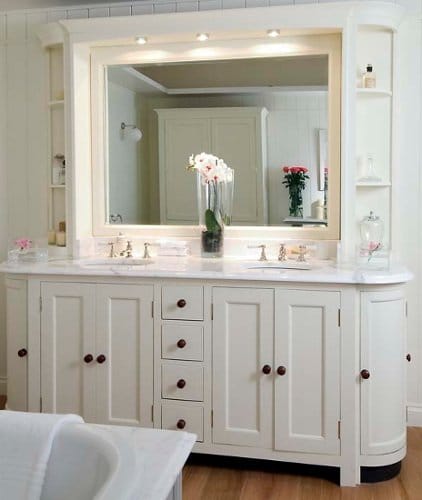 Finishing with a Faucet
Of course, with sinks being a regular feature of bathroom vanities, choosing the right faucet is of paramount importance too.
Take both aesthetics and practicality into account before coming to your decision; ideally a stylish combination of each will suit your vanity and bathroom as a whole.
Much like the array of vanities on the market, there's a huge selection of faucets available in different styles, with chrome and gold just some of the stunning finishes on offer – the former dripping in contemporary class, and the latter providing standout luxury.
It is advisable to select a faucet that aligns with the shape of your vanity, to create a look that effortlessly flows.
Ultimately, your personal preference will likely have the biggest influence on your bathroom vanity decision, with the overall style or theme of your bathroom often dictating which type to opt for.
Considering how extensive the selection of bathroom vanities available online is, you should have no trouble finding a unit that is not only perfectly suited to your taste, but that also meshes well with your bathroom décor specifically.