"This post contains affiliate links, and I will be compensated if you make a purchase after clicking on my links."
One of the last materials people use in their home interior is concrete, yet it's such a great addition to every space.
Luckily, more and more architects, interior designers and homeowners are opting for this versatile material, especially in the last few years. But, what makes concrete so attractive and desirable?

It has a strong industrial vibe
From the purely interior design standpoint, concrete is a perfect fit for all spaces that want to evoke a strong industrial vibe.
With only a touch of concrete, you can conjure images of industrial warehouses-cum-lofts that are so popular right now.
Add a few reclaimed pieces of old machinery and repurposed fixtures and you'll have a super stylish place. A great place to start with this look is to turn to flooring.
Concrete floors look amazing in open concept layouts, but unlike hardwood that also fits the vibe, it's much more practical and affordable.
If concrete floors seem too cold for you, try an accent concrete wall. A single concrete wall can add a bold splash of texture and interest to your space for very little money.
It can be used as a focal point
Every well-designed space needs an element that will attract the eye and serve as a star of the show. It might seem unusual to use concrete as a focal point because of its neutral color, but it's such a heavy and sturdy material that carries a ton of visual weight.
What this means is that it has an amazing ability to ground that space and attract the attention. For instance, a concrete fireplace in your home will have such an authoritative presence that it will instantly pull the eye to it and serve as a conversation piece.
If you want to go more subtle, you can. A concrete island will leave a huge impression on anyone who comes to your place while a concrete coffee table can serve as a base to your seating area.
It comes in a variety of colors
Most people only know about regular gray concrete, but new technological advancements allow manufacturers to create concrete in different colors and textures.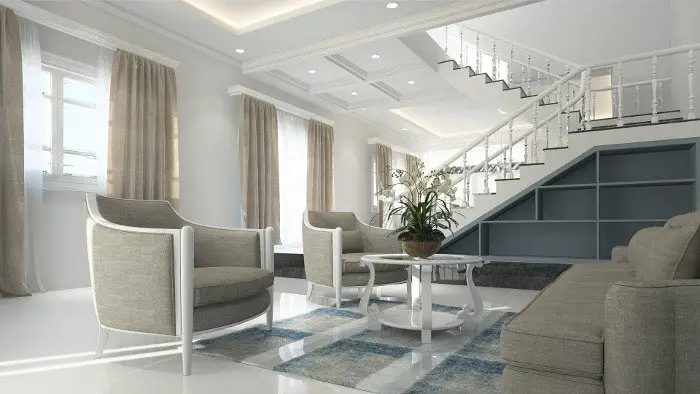 For instance, now you can find and order decorative concrete that can replicate the natural stone and polished stone tile look. It's suitable for all areas from kitchens and living rooms to entrances and driveways and comes with a much lower price tag than the real deal.
Also, concrete can be stained with very interesting results as well as polished and even etched with patterns. All of these different colors and textures of concrete make it a very desirable material for architects, interior designers and homeowners since it provides them with many design options to choose from.
It's affordable
And don't neglect the costs of manufacture and application. Compared to hardwood and stone, concrete is very cheap to manufacture.
It has only three major components—cement, water and aggregates which are all inexpensive and widely available. This means that designing your home with concrete will achieve great results while being very friendly to your wallet.
It's durable
Wood and steel have nothing on concrete when it comes to durability. If you want to design a space that will last practically forever, go for concrete!
It can withstand water without any serious side-effects, while wood bloats and falls apart and steel corrodes and loses appeal and sturdiness.
This makes concrete a perfect material for everything from kitchen floors and countertops to bathroom sinks and shower enclosures. Additionally, concrete also withstands high temperatures better than steel and wood.
So, if your goal is to create a space that gives off a timeless vibe, security and durability, look no further than concrete.
It's easy to maintain
This benefit of concrete will attract all busy bees and lazy souls—concrete is super easy to maintain. As a matter of fact, the biggest portion of work connected to concrete is completed with installation and sealing.
There's nothing else this material demands! All you're left to do is give your concrete floors, tables or counter-tops a sweep and wipe. Every once in a while, wash your concrete with a non-abrasive cleaner and that's it.
It really requires minimal effort to be kept clean and beautiful which is very desirable in modern design.
It's eco-friendly
Eco-friendliness is one of the biggest trends in interior design, so if you want to give it a try in your home, fill your space with some concrete.
The production of concrete demands 3 to 10 times less energy than steel, so it leaves behind a smaller carbon footprint.
Another green benefit of concrete is that it can be improved with industrial waste like fly ash, slag, waste glass and even ground tires. It's a win-win situation for the environment!
Sure, unlike some other interior trends in the past, concrete is much more subtle and unexpected which is why people need some extra convincing to try it out. Hopefully, this text put concrete on your interior design trend radar and you'll be giving it a shot soon.